DO IT FOR YOUR OWN GOOD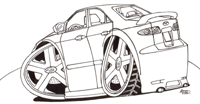 Got boost? Last month's intercooler DIY got several people interested in our turbo product lines. We added a turbo product line as well as our stainless steel piping. We're working around the clock to bring you more and more of our 170 brands to HiVolume.com.

FEATURED SUPPLIER
Turbo Specialties
Turbo Specialties bolt-on kits feature the GARRETT line of top quality turbo chargers, mated with Asian made manifolds, intercoolers, pop off valves and electronics to create the finest, highest performing street car turbocharger systems available.
TECH SECTION
2000 Honda Civic SE Project

Visit our tech section for a new interesting Do-It-Yourself (DIY) document on our 2000 Honda Civic SE project. We upgraded the stock radiator to a Fluidyne aluminum racing radiator.
TECH SECTION

EXPERT ADVICE
By Bernard Tremblay, Forced Induction Specialist

Turbo Project: Planning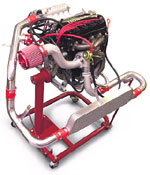 The longest part of a custom turbo project is mapping out all the piping and planning for the right parts.

A good idea is to use a combination of both alumninum and stainless steel tubing. Aluminum is lighter, but less resiatant to high heat. A good example might be to use stainless steel between the turbo and the intercooler, but aluminum between the intercooler and the intake manifold. FULL PRODUCT LINE...

YOU ASKED US...

Question: I need more power out of my vehicle, can you help?

Answer: If you don't know where to begin, contact us by phone or email and our technical staff will do their best to help you out. We can work with your budget to attain a realistic goal. Any technical terms can be explained to you. No more guessing games.

HiVolume.com provides you with more quick answers to common questions.
CLICK HERE

CONTACT US

Need a product we don't carry? Let us know, we'll do our best to contact the supplier and negotiate the best price. CLICK HERE

Jean-Pierre Xenopoulos & Jean-René Auger

To unsubscribe simply CLICK HERE. We would like to apologize for any inconvenience.

---


2 MONTH SPECIAL!



Up to 30$US cash back on Edelbrock products!!



Get up to 30$US cash back on select Edelbrock manifolds & carburetors. Through teamwork, good equipment and dedication, Edelbrock designs and manufactures products that deliver maximum performance.

DO IT



Buy It Now
HiVolume.com preferred suppliers bring you great value packages on products and services that suit your needs.

Choose a Category and Click
•
Stainless Piping
•
Gauge Pods