DO IT FOR YOUR OWN GOOD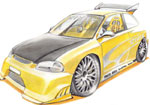 Spring is on its way and to kick off the racing season, we're continuing to offer FREE shipping throughout Canada! Feel free to email us about shipping to other countries. Don't forget, HiVolume.com has over 170 different brands of automotive accessories to suite all needs.

FEATURED SUPPLIER
MagnaFlow
MagnaFlow is the world leader in the manufacture of catalytic converters and exhaust components for over 20 years. Their new product development is a result of their commitment to performance products that deliver results. They design their products in their fully equipped R&D Center with multiple engine and chassis dynos along with flow bench and audio test equipment.
TECH SECTION
2000 Honda Civic SE Project


Visit our tech section for a new interesting Do-It-Yourself (DIY) document on our 2000 Honda Civic SE project.
TECH SECTION

EXPERT ADVICE
By Luc Dupont, Professional Car Audio Installer

High wattage car audio system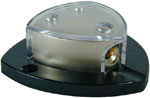 When installing two or more amplifiers, consider using a fuse-less distribution block to ground them at the same point as your capacitor. Connect the amps to the block and then connect the block to your chassis at the common grounding point. FULL PRODUCT LINE...

YOU ASKED US...

Question: How do I know if the part I want is in stock?

Answer: Stock varies so quickly, we don't mention stock on our web site. Often, obtaining stock on popular parts is less than 48h. If stock is a concern for your project, simply email us or call us with the specific part you're wondering about. Our staff can help you find a product alternative if stock is backordered for longer periods.

HiVolume.com provides you with more quick answers to common questions.
CLICK HERE

CONTACT US

Need a product we don't carry? Let us know, we'll do our best to contact the supplier and negotiate the best price. CLICK HERE

Jean-Pierre Xenopoulos & Jean-René Auger

To unsubscribe simply CLICK HERE. We would like to apologize for any inconvenience.

March 2004

---


MONTHLY SPECIAL!



10% Off TYC products!!



Innovative designs fabricated from premium materials, with quality and workmanship within the QS/ISO framework is the cornerstone of TYC automotive products.

DO IT



Buy It Now
HiVolume.com preferred suppliers bring you great value packages on products and services that suit your needs.

Choose a Category and Click
•
Wheels
•
Tires