DO IT FOR YOUR OWN GOOD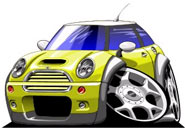 The snow is almost gone, the temperature is getting hotter, the cars are getting ready to come out. MAY MADNESS has begun, and HiVolume has the bug. Check us out for deals this month on Audiopipe setups, Torco SR-1 and K&N oil filters.


FEATURED SUPPLIER
K&N
K&N Take Air Filters Seriously - For over 30 years they've manufactured serious air filters completely unlike traditional disposable filters. Their air filter is designed to achieve high, virtually unrestricted air flow while maintaining filtration levels critical to ensure long engine life. The secret to our success lies in the unique characteristics of our filter medium that was originally developed by K&N all those years ago in the dust, sweat and tears of desert motocross racing. They just wanted to win races and stumbled on a cotton filtration technology destined to be great. Their high flow cotton gauze air filter is washable, reusable and built to last for the life of an engine. The filters consist of four to six sheets of cotton gauze layered between two sheets of aluminium wire mesh. This media is then pleated and oiled to enhance its filtering capabilities and overall performance. The result is an air filter that allows dramatically more air into an engine, is washable and reusable, and will protect your engine for the life of your vehicle.
TECH SECTION
2000 Honda Civic SI Tuning Project

Visit our tech section for a new interesting Do-It-Yourself (DIY) document on our Honda Civic 2000 SI tuning project.
TECH SECTION

EXPERT ADVICE
By Billy Red, Tuning Specialist

The right filter for the right application!



At HiVolume, we believe in our products and know that the right combination of oil and filter will keep your engine clean, and safeguard your car for years. This is why we think using a K&N Performance oil filter with a quality oil, such as Torco SR-1, will improve the overall performance of your vehicle. Why do we believe in K&N?
Drilled safety wire holes for racing

Sturdy 1" wrench nut makes removal quick and easy

Metal leaf spring provides a positive seal between element and lid

Heavy-duty construction provides up to 550 PSI hydrostatic burst strength*

Resin-impregnated filter media provides maximum filtering surface for contaminant removal

Inner core provides extra structural support to prevent filter collapse

Anti-drainback valve (where applicable) eliminates dry starts, prevents oil from draining back into crankcase during engine shutdown

Internally lubricated gasket provides positive seal while allowing easy on and off of filter

Rolled threads provide extra protection against stripping


COLLABORATOR PROFILE
Jean-René Auger



Current ride: Honda Civic SE 2000
Favorite Car: Honda S2000
Ugliest Car of all times: Pontiac 6000LE

More info >

YOU ASKED US...

Question: Won't using an aftermarket filter void my vehicle warranty?

Answer:
It is against the law for a manufacturer to require the use of a specific brand of air filter unless it provides a replacement air filter, free of charge, under the terms of the warranty. For a more thorough discussion of this law known as the Magnuson-Moss Warranty, see K&N's Vehicle Warranty Section. Also see their Letter Regarding Vehicle Warranty and K&N Replacement Filters.

HiVolume.com provides you with more quick answers to common questions.
CLICK HERE

CONTACT US

Need a product we don't carry? Let us know, we'll do our best to contact the supplier and negotiate the best price. CLICK HERE

Jean-Pierre Xenopoulos & Jean-René Auger

To unsubscribe simply CLICK HERE. We would like to apologize for any inconvenience.

---


MONTHLY SPECIAL!



Combo deal!!!



Buy a set of racing seats, and get the floor brackets for free.
(limited applications available, please email for inquiries)

SAVE OVER 150$

DO IT

Buy It Now
HiVolume.com preferred suppliers bring you great value packages on products and services that suit your needs.

Choose a Category and Click
•
LSD Gear Oils
•
Engine Oils