DO IT FOR YOUR OWN GOOD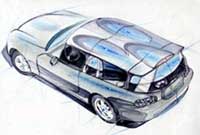 Whether you're looking to impress the neighbourhood or feel your music, a subwoofer plays a key role in your car audio system. We offer several brands of subwoofers and enclosures.

FEATURED SUPPLIER
BBS Wheels
BBS can lay claim to be the wheel of champions on racetracks around the globe and in almost every road racing category. Their fastest customers know just what it is they want: Minimum weight with maximum safety. Besides reducing weight, guaranteeing absolute reliability is a priority they pursue day in, day out.
TECH SECTION
2004 Chevrolet Cavalier Project

Visit our tech section for a new interesting Do-It-Yourself (DIY) document on our Chevrolet Cavalier 2004 audio project.
TECH SECTION

EXPERT ADVICE
By Luc Dupont, Professional Car Audio Installer

Polyfill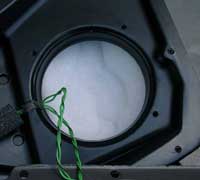 In order to reduce high frequency resonances, sounds damping material such as fibreglass batting, polyfill, tar based spray can greatly improve a sound systems performance. This is achieved as the air moving through the fibres is cool. The cooler the air, the lower the density, which in turn would allow to achieve the same amount of air pressure as in a larger box under normal density. The result is an overall lower Q of the system, which will give more low end bass. In other words, polyfill fools an enclosure to think it is larger than is. Playing with different amounts of polyfill may allow you to get the sound you desired.
FULL PRODUCT LINE...

YOU ASKED US...

Question: What is the difference between a ported box and a sealed box?

Answer:
Sealed enclosures produce tight, accurate sound. They are good for jazz, classical, light rock or country. They are also good for anyone looking for clean tight responsive bass, otherwise known as sound quality in their music. It is not limited to these types of music. Ported enclosures use a vent to increase low bass response. They produce a looser sound and will provide more volume compared to a sealed box with the same amplifier output. Ported enclosures are good for rap and hard rock. The sound quality and the response of the subs will not be as good as in a sealed box.

HiVolume.com provides you with more quick answers to common questions.
CLICK HERE

CONTACT US

Need a product we don't carry? Let us know, we'll do our best to contact the supplier and negotiate the best price. CLICK HERE

Jean-Pierre Xenopoulos & Jean-René Auger

To unsubscribe simply CLICK HERE. We would like to apologize for any inconvenience.

---


MONTHLY SPECIAL!



AudioPipe TS-K



Powerful subwoofers at rock bottom prices.

30% off!

Starting at ONLY 80.00$!!!

DO IT



Buy It Now
HiVolume.com preferred suppliers bring you great value packages on products and services that suit your needs.

Choose a Category and Click
•
Mobile Video
•
CD Changers