DO IT FOR YOUR OWN GOOD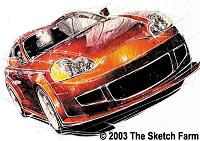 Why add styling to your trunk? It's the best place to stash your equipment (amps, NOS bottles, etc.) In recent business developments, we added dozens of new brands to offer you the best diversity possible.

FEATURED SUPPLIER
Audiobahn
Audiobahn was established in 1997 and today is on the forefront of car audio technology and innovation. As a premier car audio manufacturer, Audiobahn is leading the way in creative design and superior quality products. The trademarked blue neon and chrome flames have made Audiobahn a distinguished figure in the automotive community. Manufacturing head units, subwoofers, high-current amplifiers, mobile video products and more, Audiobahn is one of the industry's most well-known sources for topnotch car audio products.
TECH SECTION
1991 BMW M3 Project

Visit our tech section for a new interesting Do-It-Yourself (DIY) document on our BMW M3 trunk project. We organized the trunk as efficiently as possible.
TECH SECTION

EXPERT ADVICE
By Luc Dupont, Professional Car Audio Installer

Traveling Treasure Trunk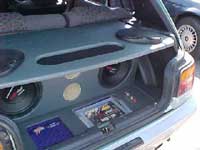 When deciding on a trunk setup, the options are vaste. Sub size, single versus double, SPL or SQ, standard box versus molded fiberglass enclosure. It mainly always comes down to budget. The more difficult and more professional setups will always cost more. Secondly, truck functionallity should also be considered before taking on any project. If you often have to use your trunk, a large bulky box might not be the best option. Over the course of the next few months, we will have a a series on how to give your car a professional from home with the use of fiberglass, wood panelling and carpeting. FULL PRODUCT LINE...

YOU ASKED US...

Question: What is the difference between an SPL and SQ sound setups?

Answer:
SPL = Sound Pressure Level
SQ = Sound Quality

SPL systems just say 'oh, goodie, look, a human, let's beat the crap out of him by compressing the air surrounding his body' and then its all over, you're jello. SQ means that when you're listening to a recording of a live concert, you can hear the roadie back stage say "shit" as he breaks a string on the guitar player's backup while trying to tune it. :)

HiVolume.com provides you with more quick answers to common questions.
CLICK HERE

CONTACT US

Need a product we don't carry? Let us know, we'll do our best to contact the supplier and negotiate the best price. CLICK HERE

Jean-Pierre Xenopoulos & Jean-René Auger

To unsubscribe simply CLICK HERE. We would like to apologize for any inconvenience.

---


MONTHLY SPECIAL!



VHT Plastic Paint



Perfect for gauge pods and plastic panels. Specifically formulated to adhere to plastic. Won't flake off.

ONLY 7.50$ / CAN!!!

DO IT



Buy It Now
HiVolume.com preferred suppliers bring you great value packages on products and services that suit your needs.

Choose a Category and Click
•
Woofers
•
Enclosures