DO IT FOR YOUR OWN GOOD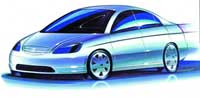 Got boost? Last month's intercooler DIY got several people interested in our turbo product lines. We added a turbo product line as well as our stainless steel piping. We're working around the clock to bring you more and more of our 170 brands to HiVolume.com.

FEATURED SUPPLIER
VHT Paint
VHT is the world leader in high temperature coatings and specialty products. They pioneered high temperature coatings for NASA! VHT's TrackBite has been in use at nearly every major drag race ever since and has become the household name among traction compounds.
TECH SECTION
2003 Acura RSX Type S Project

Visit our tech section for a new interesting Do-It-Yourself (DIY) document on our 2002 Acura RSX Type S project. We upgraded the stock fog light lens to custom lightweight and tough lexan lenses.
TECH SECTION

EXPERT ADVICE
By Billy Red, Tire Specialist

Big tires = Big trouble?



When looking for plus size tires, road conditions and driving style should also be considered. Roads with severe potholes can destroy low profile tires. A damaged tire which has blistered should be attended to immediately to prevent eventual blow out. As seen in the picture, similar damage of the side wall can cause the tire to blow out and in the end cause greater damage to the vehicule. FULL PRODUCT LINE...

YOU ASKED US...

Question: How can I cure my recently purchased VHT paint?

Answer: If you don't want to cook your painted parts in your oven, a good alternative is a BBQ. You can use tin foil to avoid dirtying your oven or BBQ. Make sure you use a high temperature compatible thermometer to monitor the temperature. A body thermostat often won't cut it.

HiVolume.com provides you with more quick answers to common questions.
CLICK HERE

CONTACT US

Need a product we don't carry? Let us know, we'll do our best to contact the supplier and negotiate the best price. CLICK HERE

Jean-Pierre Xenopoulos & Jean-René Auger

To unsubscribe simply CLICK HERE. We would like to apologize for any inconvenience.

---


DON'T FORGET TO REDEEM!



Up to 30$US cash back on Edelbrock products!!



It's not too late to redeem your rebate. Get up to 30$US cash back on select Edelbrock manifolds & carburetors purchased between April 20th and June 30th 2004. Through teamwork, good equipment and dedication, Edelbrock designs and manufactures products that deliver maximum performance.

DO IT



Buy It Now
HiVolume.com preferred suppliers bring you great value packages on products and services that suit your needs.

Choose a Category and Click
•
Cables
•
Gauge Full Pillar Pods